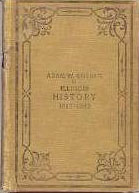 Book of
John Francis Snyder & father Adam W. Snyder
And His Period In Illinois History 1817-1842
Second And Revised Edition
Virginia, Illinois, E. Needham, Bookseller And Stationer, 1906. Second edition, Howes S-745 [1903]Brown
. 437pp.
John Francis Snyder,

1830-1921,

was a Cass County physician.

This is about his father, Adam W.Snyder, 1799-1842
b. Connellsville, PA. A captain in the Black Hawk War, participated in the Battle Of Burr Oak Grove. He
moved to Cahokia in l8l7, was admitted to the bar in l820 and practiced law in Cahokia. He then became a judge,
moved to Belleville in l833. United States Congress, State Senator, candidate for governor, nomiated in l842 but
died before he could run.This book has the muster roll of his Black Hawk war outfit and Synder genealogy.
---