James Philo Davis Family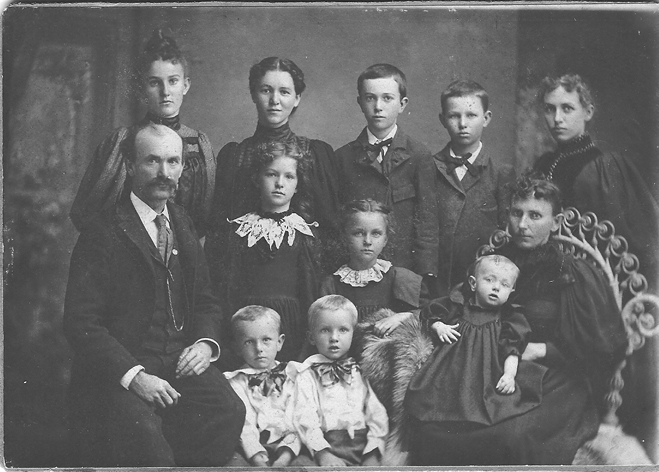 This photo was taken circa 1896 and shows some of the family of James Philo and Nancy Jane Dyche Davis. The Davis family has long roots in Cass County. Shown in the picture is from the left: James Philo Davis, standing behind in the back row from the left is daughter Maggie Mae, daughter Minerva, son Harry, son Ed and daughter Grace. In the second row from the left next to James Philo Davis is daughter Bertha Alice, daughter Bessie, and seated is his wife, Nancy Jane Dyche Davis holding son Roy. The two boys in the front from the left are sons Ledrue and Claude.

James Philo Davis, born May 27, 1856 in Cass County and died August 13, 1909 at his farm 3 miles south of Beardstown. His parents were James Allan Davis (born Oct. 24, 1824 and died June 15, 1894) and Martha Schaeffer Davis (born Sept. 16, 1830 in Montgomery, Ohio and died July 21, 1884). James Allan's parents were James Davis and Elizabeth Foster. Martha's parents were Philip Schaeffer and Highly Hoover (or Carver).

Maggie Mae Davis Orne, born May 24, 1881 in Cass County and died April 12, 1970. Married Samuel Orne from Sweden and had 5 children: Hannah Mildred (married Roy Anderson), Minnie May (married Al Bracewell), Carl Edward (married Frieda Edwards), Frieda Ruth Marie (married Rupert Anderson) and Christine (married Floyd Thornton).

Minerva Jane Davis Fanning, born August 28, 1879 in Cass County and died March 6, 1975. She married Richard Elmer Fanning on June 26, 1898. They had 2 children: Raymond (married Velda Knippenberg) and Louise (married Robert Lynn).

Harry Davis, born October 12, 1883 in Cass County and died in 1967. He married Myrtle Long on June 14, 1905. They had 4 children: Harold James (married Helen Schmidt), Clara Nadine (married Clarence Sellers and Virgil Zobrist), Elmer Earl (married Marjorie Hutchersen), and Dorothy Ruth (married Earl Davis).

Edward Reuben (Ed) Davis, born Nov. 12, 1885 in Cass County and died in 1958. He married Elizabeth Jane Shelley. They had 2 children: George Edward and Glen William.

Grace Ellen Davis, the oldest child, born January 29, 1878 in Cass County and died Nov. 12, 1963. She married Frederick A. Hillig in 1900. They had two children: Roland Eugene (married Elsie Demmin) and Blair Gustav (married Lillian Hayes).

Bertha Alice Davis, born Dec. 28, 1887 in Cass County and died May 23, 1913 in Winfield, Kansas. She married Frank Cleveland Hiles. They had 3 children: Frances Mildred (married Sharon Thompson), Edgar Eugene (married Elizabeth Opal Barnett) and Le Etta (died in 1909 at the age of 16 months, 12 days).

Bessie Lee Davis, born May 12, 1890 in Cass County and died in Feb., 1982. She married Edward Hiles on July 8, 1908. They had 7 children and lived in Peoria, IL. for many years. The children were Clarence Earl, Clara Marie, Charles Elmer, Velma Louise, Edward, Jr., Robert Eugene and Byron Gerald.

Nancy Jane Dyche Davis, mother, born May 15, 1857 and died May 2, 1936. Her parents were Joseph Dyche and Eliza Jane Long. Joseph Dyche was born Jan 17, 1810 and died April 6, 1869. Eliza Jane Long was born May 18, 1830 and died Oct. 4, 1900. Her parents are unknown. Joseph & Eliza had 6 children: Emma (married William Filey), Nancy Jane, William H. (married Sophia Reining), Thomas J. (married Florence Davis), John (married Mary Lister) and Mary J. who died at the age of 6 yrs.

Roy Davis, being held by his mother, born August 22, 1896 and died Feb 24, 1968. He married Edna Jean Fanning and Helen Tucker. Roy had 4 children with Edna: Marland Leroy, Edna Alberta (married a man named Wilkins), Charles Vernon (died at the age of 6-1/2 yrs), and Alfred Lee. Roy had 2 children with Helen: Ernest Franklin (died at 22 yrs in 1961) and Gladys Pearl (married Ted Eichelberger).

Ledrue (Lee) Davis, born Nov. 16, 1891 and died May 21, 1970. Married Augusta Reining on Dec. 25, 1913. They had 5 children: Marguerite Le Etta (married Marion Elliott), Donald Leroy (married Helen Irene Watts), Robert Philo (married Betty Jane Wells), Carol Rose Enid (married Joseph Matthews) and Gerald Cecil, who died the day of his birth.

Claude George Davis, born October 11, 1893 and died October 17, 1973 in a truck collision. He married Anna Goff on February 12, 1914. They had 3 children: Francis Leroy (married Evelyn Jennings and lived in Los Angeles), Dorothy (married John "Jack" Harris) and Mary Anne (married John Best and Charles Green).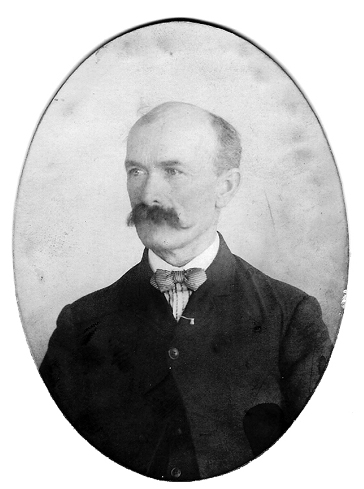 James Philo Davis
Submitted by Kathy Best, granddaughter of Claude and Anna Davis.
Kathy Best
kbest@houston.rr.com