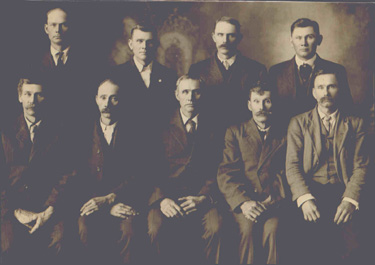 This is a photo of nine of eleven sons born to David Brasel, Jr and Mary
Brasel (nee Long).
L-R Standing Charles, Frank, Smith, Howard.
L-R Seated Samuel, Edward,William, Clark and George.
A son James, died in 1888 at the age of 20 and a son John is six years old
on the 1870 Census and died before the 1880 Census was taken.

David Brasel, Jr was the son of David and Anna Clarkson Brasel, who came from
Morgan County, Tennessee, in the fall of 1818 to what was then Madison
County, Illinois.
They purchased 80 acres in a part of Morgan County that in 1839 became
Scott County.
On July 23, 1827, David Brasel, as a Sergent, entered Capt. Gordon's
Winnebago War.
He became ill while in Peoria, Illinois and was sent home to recouperate.
On the way back to Morgan County he drowned while crossing a swollen creek
in Foulton County, Illinois and was buried near where he died.
Anna Brasel remained in Morgan County/Scott County and raised their five
children Lewis, Nancy, Rhoda, Wiley and David,Jr.

This biography and photo was provided by Palmyra Spencer in cooperation
with Mrs.Dottie Brasel and family.

---